When we use the phrase RNDC Cares, we mean it. Our genuine concern for people and the planet guides our social responsibility strategy and activations. We are dedicated to meaningful sustainability initiatives that help drive positive outcomes for our business, the economy, the environment, and society, at large. Simply stated, the greater good matters! And our strategic actions position RNDC for sustainable success for generations to come.
RNDC has proudly adopted 11 of the United Nations 17 Sustainable Development Goals or SDGs. These goals are a blueprint for achieving a happier and healthier world by the year 2030. We vow to do our part. Full SDGs Website.
Let's look at how we focus on our adopted SDGs below. RNDC SDGs Flyer
SDG #1 No Poverty – We do our part to help end poverty and enable individuals to attain financial freedom by offering competitive wages and benefits.
SDG #2 Zero Hunger – We are committed to reducing hunger in our communities by making financial contributions, donating food and volunteering to help support local food banks.
SDG #3 Good Health and Well-Being – We provide resources and experiences to improve and enhance the Physical, Emotional & Mental, Financial, Spiritual and Environmental Well-Being of our associates and communities.
SDG #4 Quality Education – We support scholarship programs that help associates eliminate some of the financial burden of a college education for dependents and provide access to equitable education opportunities in underserved communities.
SDG #5 Gender Equality – We understand the challenges surrounding gender equality and equity, so we empower and advance women through professional development opportunities.
SDG #7 Affordable and Clean Energy – We identify ways to improve energy efficiencies and reduce waste through prevention, reduction, recycling and reuse measures.
SDG #8 Decent Work and Economic Growth – We create sustainable economic growth and provide equal employment opportunities for all jobseekers.
SDG #10 Reduced Inequalities – We provide a culture of intentional inclusion for all associates with extra attention paid to the underrepresented individuals and communities.
SDG #13 Climate Action – We raise awareness and educate our associates about the effects of climate change and ways we can mitigate its effects.
SDG #15 Life on Land – We advocate for the preservation and care of forests, vineyards, parks and more, while highlighting ways that small, personal actions can help our natural environment.
SDG #16 Peace, Justice and Strong Institutions – We support organizations whose missions enforce accountability and transparency by promoting non-discriminatory laws and policies for all.
RNDC is extremely proud of the impact we are making!  Our ongoing commitment to driving traction for each of the identified SDGs provides opportunities for every associate to get involved in areas that are important to him or her.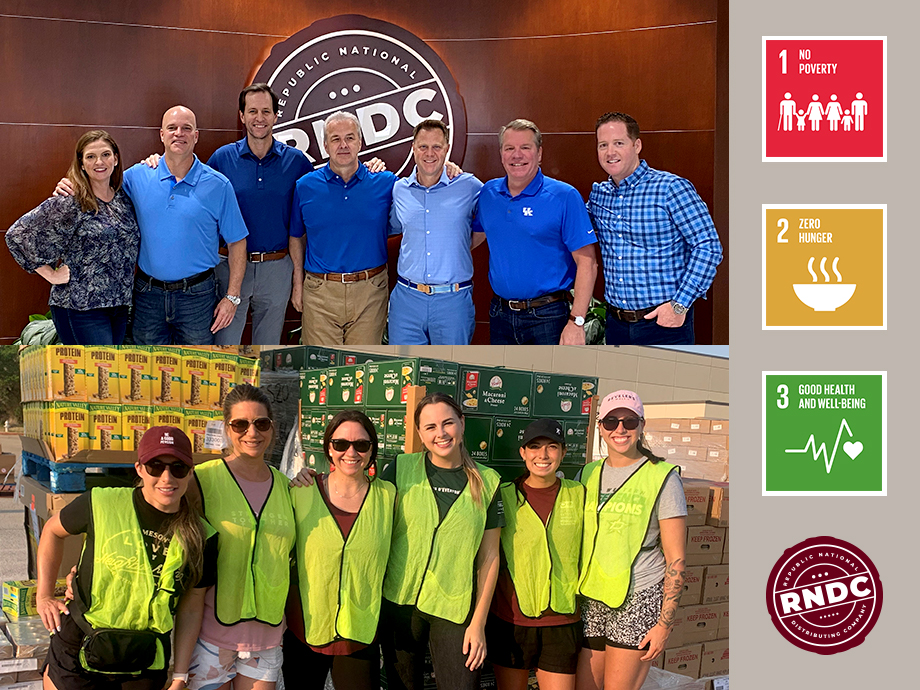 Top photo: Associates wearing blue in support and awareness for Prostate Cancer Foundation's Do Blue Campaign (SDG #3)
Bottom photo: Associates volunteering at a local community food bank during Feeding America Campaign (SDG #2)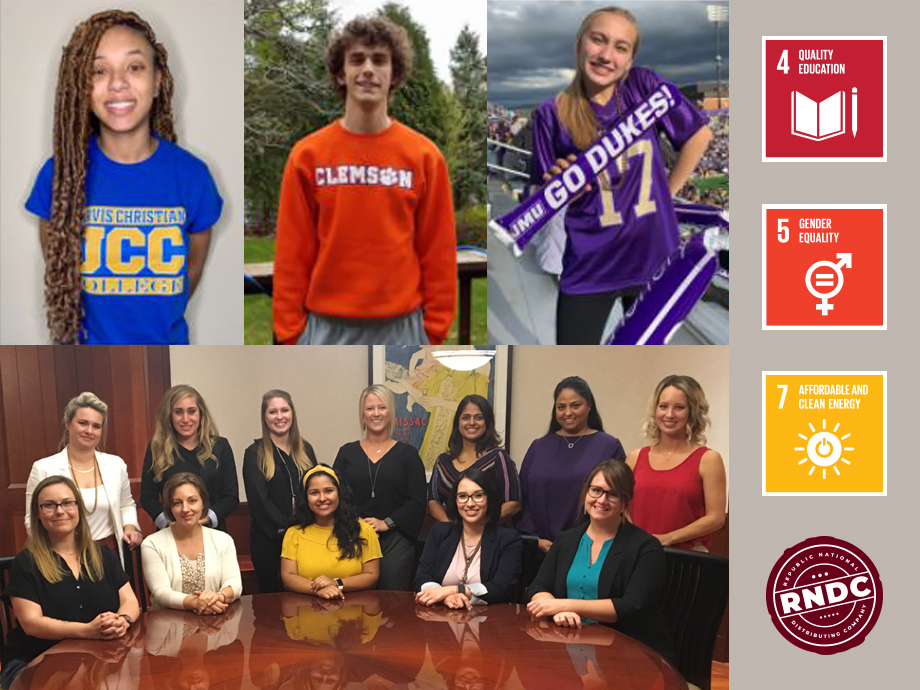 Top photo: RNDC Scholarship Fund Recipients (SDG #4)


Bottom photo: Associates of our Women's Leadership Forum (SDG #5)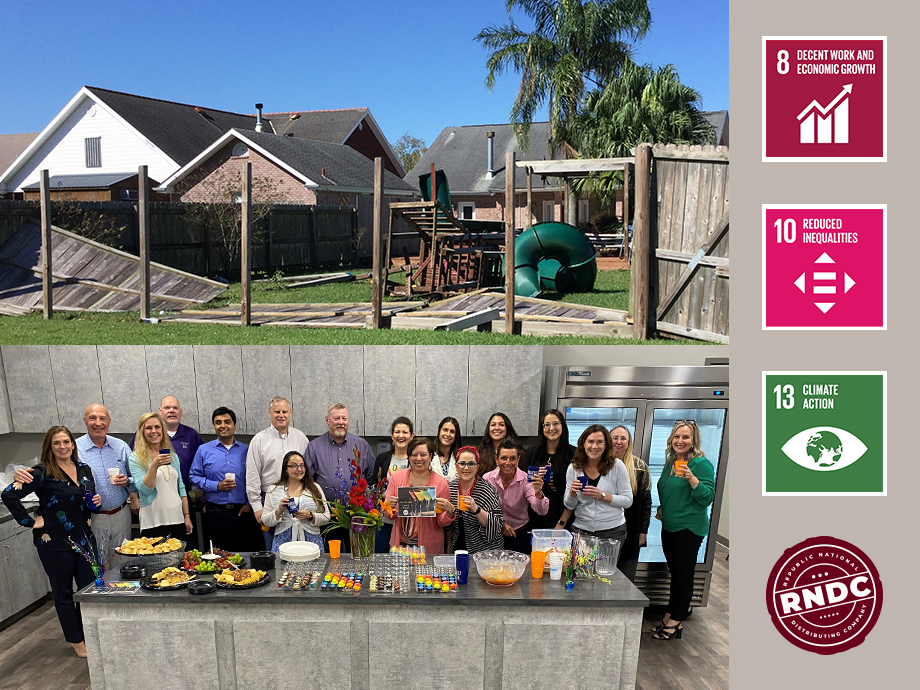 Top photo: RNDC Relief Fund to assist after natural disaster (SDG #8)


Bottom photo: Associates making time to "Sip in Solidarity" during Pride Month (SDG #10)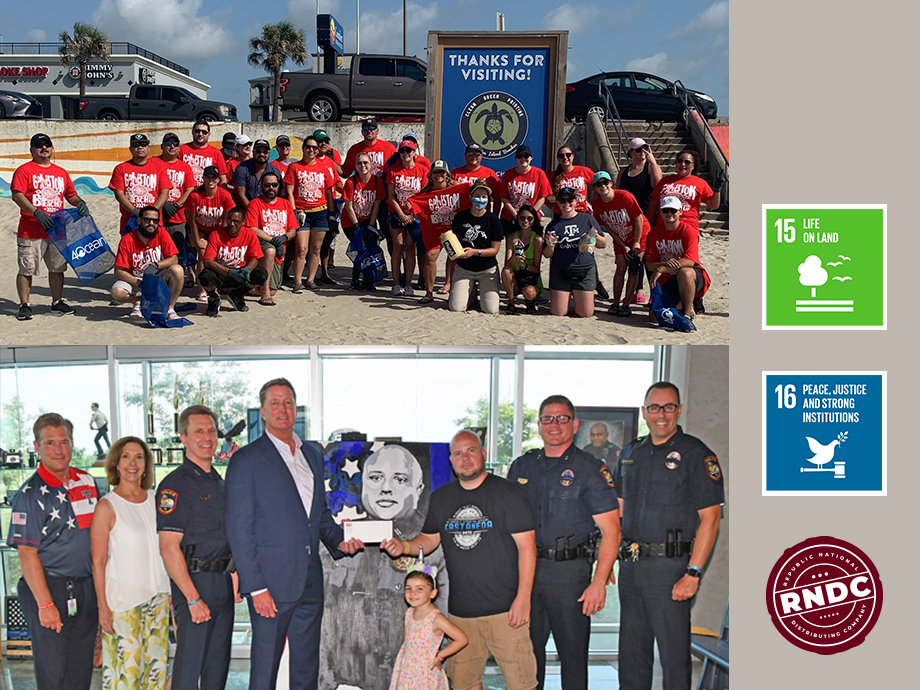 Top photo: Associates participating in beach clean-up (SDG #15 Life on Land)
Bottom photo: Associates supporting local justice initiative (SDG #16 Peace, Justice and Strong Institutions)